Saturday, September 26, 2009
The animated movie, A Town Called Panic, from Belgium won the Silver Méliès aat LIFFF 2009 in Lund, Sweden.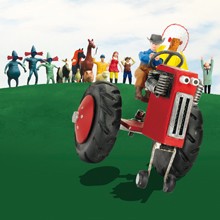 Directors Stéphane Aubier and Vincent Patar will in October travel to Sitges in Spain to compete with nine other Silver Méliès winners for the Golden Méliès - the grand award for best European fantastic movie.

In the Jury we found directors Anders Banke and Fredrik Boklund and actress Nina Zanjani. Their motivation was:

"We had a hard time putting words to what we have experienced since this film is so very different, it borders on being unique. Being a weird film for the whole family, it has a fantastic eye for details and not a single dead second. It is almost unfair to the other movies to compete with one who breaks all rules and silent agreements that all other movies have to follow. This movie wins the LIFFF Silver Méliès award 2009 because if you should only see one more movie before you die - it's A Town Called Panic!"
...
Winner of the newly installed award for best non-European movie, The Siren, was Australian movie Van Diemen's Land. Director Johathan Auf Der Heide used the cruel but true story about eight convicts who escape from a prison colony on a remote island and find themselves in a strong drama you shall not soon forget.

The Jury consisted of Jenni Ukkonen, who arranges Finnish film festival Espoo Cine, Rikke Schubart, Danish author and senior lecturer at Syddansk Universitet and Shade Rupe, author and has arranged several film festivals in the United States. Their motivation was: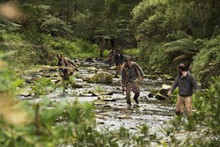 "The film that most captivated us out of the eight fantastic films this week takes us on a journey into the heart of nature, a nature that looks so calm from afar, and is so dark and cold once we're trapped inside it. Stark and terrifying, the winning film is illustrated not only with crisp cinematography, it's also told with the sound of trees creaking in the wind, the sound of hunger being sated, and the sound of men plotting each other's deaths.
Realist, natural and intense, the film's performances transcend acting---we fully believe in each characters' physical struggle and painful guilt. Their faces are strong and worn... not beautiful in a conventional Hollywood way. The film's straightforward plot allows the actors to become their characters and we can't help but believe in their doomed plight.
The Gaelic narration is both wonderful and strange, taking us back in time and into the unfeeling inhumanity of nature. A filmic language can take us out of our seats and out of our own problems, and a language spoken can take us away to another land and time. The language of tonight's winning film took all of us into the heart of our very own darkness. We are quite pround to announce the winner of this year's Lund Fantastisk Film Festival, Jonathan Auf Der Heide's Van Diemen's Land."
...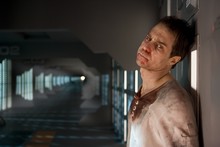 Winner of the prestigious Audience Choice Award, that is decided by the audience through a grading system after every screening, goes to Moon, directed by Duncan ZH Jones. Audience Choice Award for Short Films goes to Virtual Dating, directed by Katia Olivier.
Moon på FFF
Virtual Dating på FFF

We would like to thank all LIFFF-workers, visitors and guests for a fantastic filmfestival. Thank you all and see you in 2010!

Back